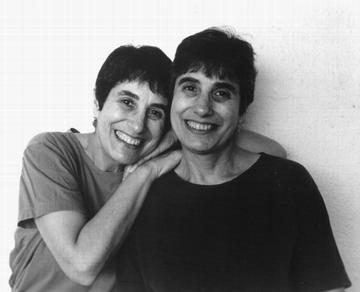 Audiences may recognize the voices of the Kossoy Sisters, identical twins, from their version of "I'll Fly Away" in the Coen Brothers' movie O Brother, Where Art Thou? They performed at the first Newport Folk Festival and sang in the original production of Woody Guthrie's Bound for Glory. Irene and Ellen began harmonizing at the age of 8 or 9, singing mostly what they heard around the house: songs of the 20's and music hall songs. In their early teenage years, they immersed themselves in traditional songs and became part of the music scene in Washington Square in Greenwich Village. By the age of 20 they had performed widely in New York. Although they sing mostly southern mountain songs, they have also adopted other traditional and contemporary songs (including humorous compositions by Irene), accompanying themselves on guitar and banjo.
In addition to Newport, the Kossoy Sisters performed for several years at the Fox Hollow Folk Festival, did a concert tour with Frank Hamilton in California in 1981, and sang at the University of Chicago Folk Festival, New York Pinewoods Camp, and Focal Point in St. Louis in the 1980's. After the 1997 reissue on CD of Bowling Green by Tradition/Rykodisc, the Kossoy Sisters resumed performing with concerts in Boston and Washington DC, among others.
The Kossoy Sisters' album Hop On Pretty Girls includes a mix of traditional southern mountain songs and originals–including work by Irene and Ellen, Woody Guthrie and the Carter Family. Pete Sutherland, a fine instrumentalist and singer, is the artistic producer of the CD and accompanies the Kossoy Sisters on most of the songs. Two popular Boston area musicians, Lorraine and Bennett Hammond, lend their voices and instruments on two of the CD's songs, in addition to contributions by a variety of Vermont-based instrumentalists.
Hop On Pretty Girls is available for purchase or streaming through many popular online services, including Spotify, Apple Music, YouTube Music, and Amazon.